What You Will Need to Host
---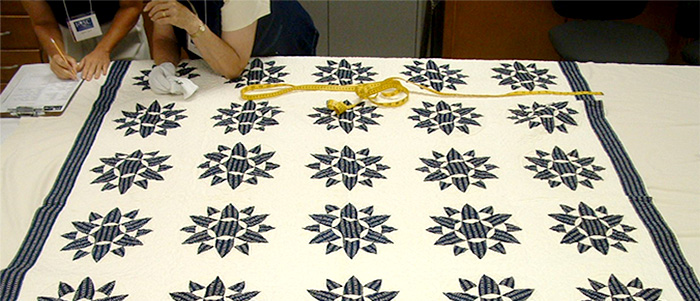 Make sure to have a dedicated group of volunteers or staff committed to working during your Quilt Identification Day. Aim for three volunteers per table. Volunteers unfold and refold the quilts, examine them, record the information and affix a label to the quilt. Extensive knowledge is not necessary.
You will also need the following supplies:
Large tables 

Sturdy step-ladder

White gloves

Sandpaper

½ sheets of paper to use for quilt id during photography

Tablet for notes

Labels

Pigma pens or archival marker

Pencils

Clipboards

Camera

Camera batteries (check on power)

Sharpies for marking photography sheet

Scissors

Thread (off-white)

Needles

Tape measures

Pin cushion or fabric scrap for storing loose needles

Object survey form

Photo approval form
We also suggest having these resources on hand to identify unknown quilt patterns:
You can also learn more about quilt and textile care by reading the International Quilt Study Center & Museum's brochure, "To Protect and Preserve."
---
If You Plan to Archive
If you plan to archive the information gathered and any accompanying photographs, contact the institution where this information will be archived. Ask what permissions you must obtain from the quilt owner and get a copy of their forms.
Anyone who uses information about the owner's quilt without their permission violates intellectual property rights.
---