What Happens at Quilt Identification Day
---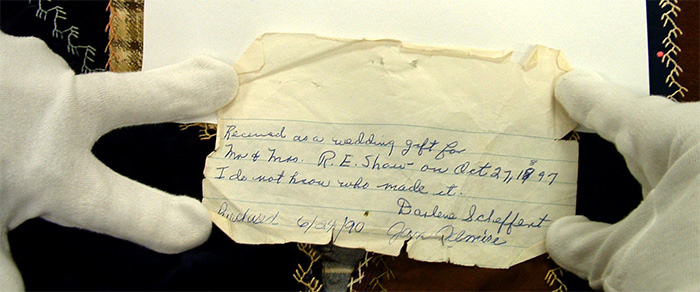 The main purpose of Quilt Identification Day is to document what is already known about quilts, including provenance and physical description and to physically attach that information to the quilt so it will never be lost. The information gathered at Quilt Identification includes:
When, where, why and by whom a quilt was made
How the quilt was used
Who owned the quilt
How the quilt came to the current owner
Size
Fabrics
Techniques
Quilting Technique
While some quilt owners may be interested in having their items appraised, IQSCM does not offer this service. Instead, we direct them to databases to help them find an appraiser near them. We also encourage sponsors of Quilt Identification Days to provide copies of the International Quilt Study Center & Museum's "To Protect and Preserve." This pamphlet offers important information about quilt cleaning, care and storage.
---