Hold Your Own Identification Day
---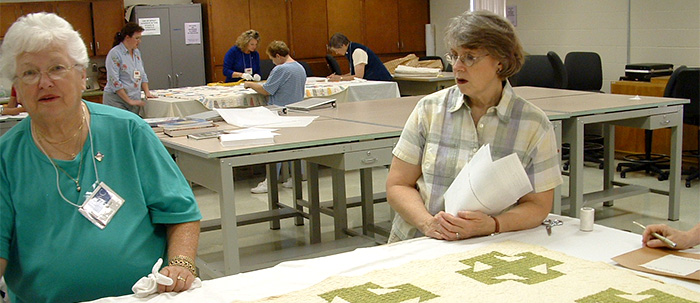 Quilt Identification Days are one of the most popular events sponsored at the International Quilt Study Center & Museum. Several times a year, visitors enjoy learning about and documenting their quilts. Staff and volunteers look forward to the event, because it gives them a chance to see new quilts and learn about their history.
During the past few decades, the need for quilt documentation became apparent. As state quilt documentation projects conducted their research, volunteers discovered many quilts had no documentation of maker, place, date or history. In other cases, what was known had been handed down orally and was not recorded anywhere.
By documenting a quilt, a person documents their own history for future generations. Since quiltmaking has often been a female endeavor historically, documenting quilts records women's history.
Through this guide, we hope to help you as you take on this important task by hosting your own Quilt Identification Day.
Steps for Holding Your Own ID Day
---