National Quilting Day
---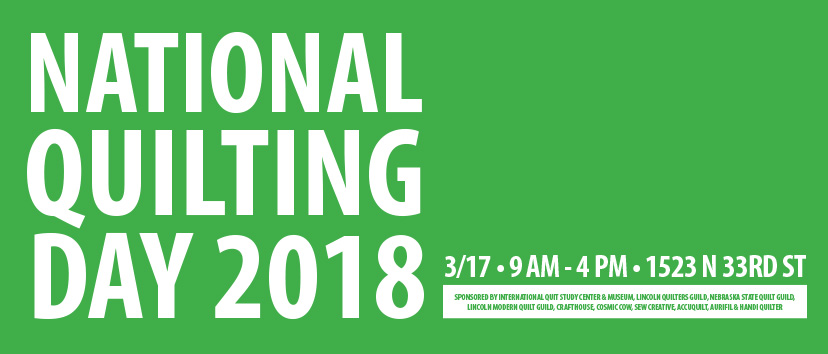 National Quilting Day 2018
National Quilting Day 2018 will be held from 9 a.m. to 4 p.m. on Saturday, March 17, at the International Quilt Study Center & Museum at Quilt House. This FREE community quilting event will include admission to the galleries, demonstrations, lectures and tours.
Lecture Schedule
"Quilter on the Run" by Kris Vierra at 10 a.m. & 1 p.m.
"A Made by Hand Sketchbook" by Carolyn Ducey at 10:30 a.m. & 1:30 p.m.
"Creating the Unique" by Dorothy Heidemann-Nelson at 11 a.m. & 2 p.m.
"The Ken Burns Collection" by Lydia Neuman at 11:30 a.m. & 2:30 p.m.
This year's event includes quilt block making for the whole family, Habitat for Humanity outreach project, "That's Modern" educational display, Handwork demonstrations, String quilts with a modern twist workshop and display plus view the museum's exhibitions and collections care in action!
Free parking is available in all university parking lots north of Quilt House and across the street at Hardin Hall. Ala carte lunch will be available for purchase.
SPONSORED BY INTERNATIONAL QUILT STUDY CENTER & MUSEUM, LINCOLN QUILTERS GUILD, NEBRASKA STATE QUILT GUILD, LINCOLN MODERN QUILT GUILD, CRAFTHOUSE, COSMIC COW, SEW CREATIVE, ACCUQUILT, AURIFIL & HANDI QUILTER