Whole Cloth
---

Maker unknown
Circa 1890-1910
Made in Turkey
IQSCM 2010.045.0012
---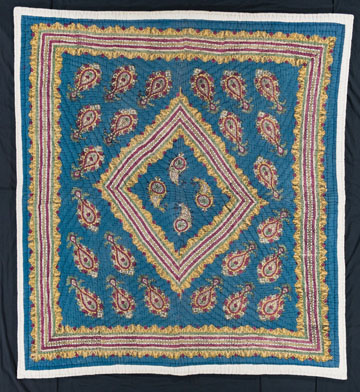 Marin Hanson, curator of exhibitions ★
In Turkey, quilts have been made for centuries, with whole cloth quilts being among the most common. Quiltmaking was a skilled profession in the Ottoman Empire (1299-1923) and even today, you can see quiltmakers in the Istanbul bazaars making brightly colored whole cloth quilts.
---
Carolyn Ducey
I love block printed designs. It's a little wonky— I can relate to that!
---
Laura Chapman
#paisleysofinstagram
---
Mary Ourecky
The paisleys in this quilt makes me think of a peacock strutting across the  galleries dropping its beautiful tail feathers along the way!
---
International Quilt Study Center & Museum
Did you know... the paisley design originated in Persia and flourished in India, but its Western name came from the city of Paisley, Scotland, where manufacturers produced woven paisley shawls. For more information about Indian influence in Western design, visit "Reflections of the Exotic East."