Thousand Pyramids
---

Maker unknown
Circa 1890-1910
Possibly made in Pennsylvania
Jonathan Holstein Collection
IQSCM 2003.003.0137
---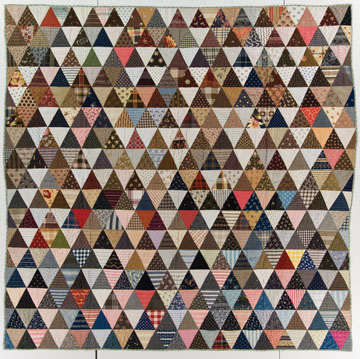 Jonathan Holstein, associate fellow ★
As you look at this piece, its large and small triangular shapes come and go up and down on the quilt, constantly shifting. It is a brilliant exercise in optics that precedes and anticipates 20th century "Op Art" abstract paintings. 
---
Anonymous
Love the simplicity of the one patch. Love the variety of period fabrics and colors. Love the secondary designs that seem to appear and disappear in the blink of an eye.
---
Bobbi Wells
It is just exciting to see such intricate detail, and the patience it took to do that. In quilting you learn about geometry, value, persistence, and organization. Don't you find that as amazing and wonderful gifts?
---
Anonymous
Being a new quilter and very fickle, I have a new favorite pattern each week. This week I have been loving the Thousand Pyramids quilts and this one is lovely.
---
International Quilt Study Center & Museum
This quilt was featured in our book, American Quilts in the Modern Age, 1870-1940, which is available in the Quilt House Museum Shop. 
Another Modern Age pattern that featured tesselation (repeating geometric shapes) was Philadelphia Pavement: