Square in a Square
---

Jeff Martin
Circa 1975-1995
Alabama
Robert & Helen Cargo Collection of African American Quilts
IQSCM 2000.004.0061
---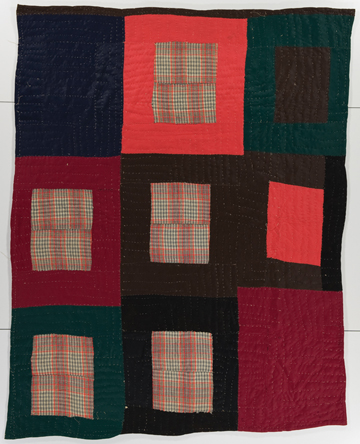 Marin Hanson, curator of exhibitions ★

The simple aesthetic of this piece is reminiscent of today's "modern" quilts. Many contemporary quiltmakers—members of the Modern Quilt Guild, for instance—use large pieces of solid fabrics in basic geometric shapes in an effort to strip their quilts down to a bolder, simpler look. This leaves them room to feature intricate machine quilting. Jeff Martin, on the other hand, used large hand-quilted stitches to hold his Square in a Square together, giving it a comfortable, textured look.
African-American quilts are an important segment of American quilt history. They reflect the diverse traditions that merge to form our American quilting heritage. They come in every imaginable style: traditional patterns and original patterns, bold colors and subdued colors, and patchwork quilts and story quilts. Like all American quilts, African-American quilts vary from region to region, from era to era, and from person to person.
The Robert and Helen Cargo Collection of African American Quilts is a group of well-documented pieces from the American South, primarily Alabama. Through years of interacting with African-American quilters in the Tuscaloosa and northern Alabama area, Dr. Cargo collected more than three hundred examples of regional quiltmaking.  Most of the quilts were made since the 1970s by women with whom Dr. Cargo was acquainted, though some of the anonymous quilts in the collection date as far back as the early twentieth century. This important collection features the work of well known quiltmakers like Yvonne Wells, Nora Ezell, Mary Maxtion, and Lureca Outland. 
Read about the Cargo Collection of African American Quilts
Learn about Race and Quiltmaking at World Quilts: The American Story
---
Anonymous
I can imagine this as an apartment from a sitcom. I half expect the crazy lady in 2B to hang her head out any minute to yell something at the "hoodlums" on the street.
---
Sara Hobart Homeyer
Special features of this quilt: large blocks, dramatic color and value contrast, some repeated fabric/blocks. Not the "usual" quilt and therefore very attractive to me! Challenging, and yet makes me think, "I could try a design of my own something like that."
---
Jan Roland (Wabash, Indiana)
The orange rectangles engage the eye and draw you into a warm collection of colors, just like the quilt would warm a person on a cold night.
---
International Quilt Study Center & Museum
Here's a quilt that will be in the upcoming exhibition, African American Quilts from the Cargo Collection :