Pojagi
---

Maker unknown
Circa 1980-2000
South Korea
IQSCM 2006.033.0002
---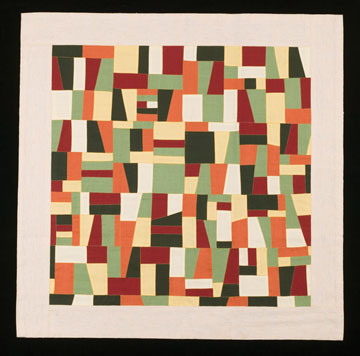 Jonathan Gregory, assistant curator of exhibitions ★ 
There is a centuries-old tradition in many cultures, particularly in Asia, of wrapping objects and gifts with beautiful textiles. In Korean culture, these wrappings, called pojagi, were made in bursts of colorful patchwork or imaginative embroidery, in fine and coarse materials, and from small to large scale.
What would you use pojagi for in your own life?
In Japan, cloth wrapping is called furoshiki. Discover some of the furoshiki wrapping techniques from Japan's Ministry of the Environment.
Learn more about Korean pojagi in our online exhibition, Pojagi: Patchwork and Quilts from Korea.
---
International Quilt Study Center & Museum
We want to know: What comes to mind when you see this Pojagi from South Korea?
5foot1quilts
A birdseye view of food gardens.

Linda Crump
A busy city.

Connie Svoboda
At first glance I thought I saw a hidden message using stylized letters of the alphabet.

Melissa Doyle
Spring in the desert!

Krishma Quilts
This quilt invokes a feeling of all the mid-century masters playing with fabrics, color, lines and shapes... to compose a quilt!

Judy Billings
The colors just speak to me. The organization of the design is pleasing.
---
Marin Hanson
I like the idea of reusable gift wrapping. In our family at Christmas, we are always hyper-sensitive about trying to save wrapping paper (it gets a little bit ridiculous!)—using fabric would be so much better.
---
International Quilt Study Center & Museum
In addition to their use in wrapping cloths, pojagi patchwork is also incorporated into children's clothing: