Log Cabin
---

Maker unknown
Circa 1910-1930
Probably made in Lancaster County, Pennsylvania
Jonathan Holstein Collection
IQSCM 2003.003.0124
---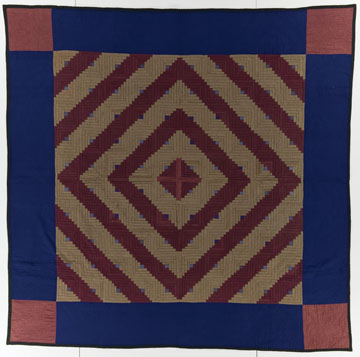 Marin Hanson, curator of exhibitions ★
Although Center Square, Center Diamond and similarly simple layouts were standard among early 20th-century Amish quiltmakers, some women also worked with more complex patterns, like Log Cabin. Yet, as with this maker, they usually contained their intricate piecing within the wide borders and corner squares typical of Lancaster County Amish quilts.
In making a quilt in a more intricate, less commonly used pattern, this Lancaster County Amish women might have been revealing the influence of less conservative Amish or Mennonite neighbors. Read about Lancaster County's "Church-Amish" (aka Amish-Mennonite) and their quiltmaking practices here.
---
Leslie Levy
It is comforting in its familiarity of design coupled with the understated colors.
---
Carolyn Ducey
I would never have thought this color combination would be so beautiful. I love the simple piecing that creates such a dramatic quilt. And who doesn't love the Barn Raising setting? It just pulls you into the quilt!
---
International Quilt Study Center & Museum
This quilt consists of standard Log Cabin blocks configured in the Barn Raising setting. In addition to the standard Log Cabin block, left, two other variations are the Courthouse Steps, center, and Pineapple, right.

In addition to Log Cabin, another pieced pattern you sometimes see in Lancaster County, Pennsylvania Amish quilts is Triple Irish Chain: