Big Blue
---

Ardis James
1980
Chappaqua, New York
Ardis and Robert James Collection
IQSCM 2009.039.0065
---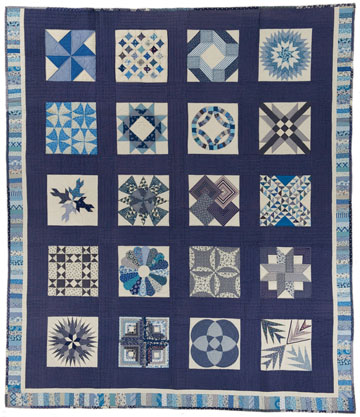 Carolyn Ducey, curator of collections ★
In 1980, quilt collector and philanthropist Ardis James made her first quilt. Made in an album format, it shows her learning numerous techniques, from a Cathedral Windows folded pattern to a technically difficult Mariner's Compass variation. We are so fortunate to have it at Quilt House.
---
Cathy James Paglia
When my mother told me that she and Dad had found a new hobby, studying and collecting quilts, and that she herself had started making a quilt for Dad as a gift, I remember thinking to myself that this was a very sweet idea, but probably not too impressive compared to some of the spectacular quilts they were finding on their travels. Imagine my surprise when I saw it for the first time! I was blown away by the quality of the design and workmanship. It was my first insight into my mother as quilt craftsman (as opposed to the lady who made my Easter dresses) and I gained so much respect for her as an artist and creator. I am glad that Big Blue has a home deserving of her merit.
---
Robert James
Ardis realized after starting our quilt collection, that she needed to actually make a quilt! It was, as usual for Ardis, very well made. She did this quite secretly, and gave it to me. I certainly admired it. Years after it was made, it was lost. We hunted everywhere for it which was difficult because she had shown it in a number of places, including Japan. We feared it might not have returned with others that had been shown from the collection. We pored over the collection several times with no luck; after several years, we sort of gave up. 
Finally, I gave it one more try, alone, and went through every quilt one by one. At the very bottom of the fourth pile, there it was. I hung it up while Ardis was gone. She was first stunned, then wept.