The Haunting of Quilt House
---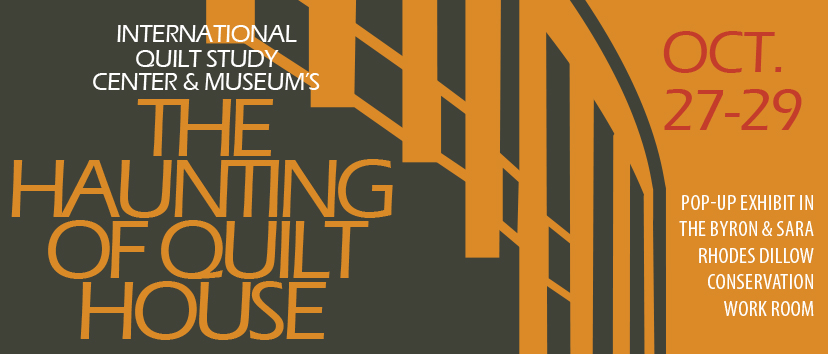 Something quilted this way comes . . .
The International Quilt Study Center & Museum will share some of its most boo-tiful and spook-tacular pieces in "The Haunting of Quilt House," a pop-up exhibit celebrating Halloween, October 27-29.
The monsters in this show aren't lurking in the closet or under the bed, but on the quilts. Pieces feature Halloween-related imagery—spider webs and skeletons—and autumn colors—orange and green. They include a Victorian-era Crazy quilt coffin cover, a 1941 quilt inscribed with the words and imagery of "Light of Egypt" and "Somnambulist," a contemporary piece by Oregon artist Wendy Huhn.
The seven quilts featured in "The Haunting of Quilt House" cover a spectrum of quiltmaking styles—applique, piecing and embroidery—and span three centuries.
In addition to viewing specially selected pieces, there will be a scavenger hunt available, with answers hidden in the quilts. Visitors who come wearing their Halloween costumes will receive free admission and they can Trick or Treat at the front desk on their way out.
Displayed in the Byron and Sara Rhodes Dillow Conservation Work Room, guests can take an up-close look at where the museum cares for the world's largest publicly held quilt collection.
The International Quilt Study Center & Museum, located at 33rd and Holdrege streets on the University of Nebraska-Lincoln's East Campus, is open October 27 and 28 from 10 a.m. to 4 p.m. and on October 29 from 1-4 p.m.