Quilt of the Month
---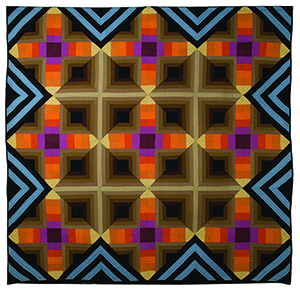 August 2014
Crosses
Nancy Crow
Dated 1976
Made in Baltimore, Ohio
93 x 94 inches
Ardis and Robert James Collection
IQSCM 1997.007.1088
Nancy Crow's early quilts, like Crosses, reflect the symmetrical design of traditional quilts combined with her use of color theory, which created a new, contemporary look.
Crosses appeared the Ohio Patchwork '76 show organized by Penny McMorris. Ohio Patchwork was one of the first shows to exhibit art quilts and traditional quilts in the same venue.
Crosses appeared at the grand opening of Quilt House in 2008.
View a high resolution image on the Google Art Project.
Read more about the quilt on The American Story.
---
Archive
| | | | | | |
| --- | --- | --- | --- | --- | --- |
| | | Grandmother's Flower Garden | | | |
| | | | | | |
| Fallen Timbers: A Salute to the Heroes of 9-11 | | | Longpo Yi or "Dragon Wife's Robe" | | |
| | | | UNL Palladian Society Quilt | | |
| Indigo Resist Whole Cloth Quilt | Scrap Bag with St. Michael | | | | |
| Daybook: 8 September 2006 | Through the Trees: Solstice Moon | | Maonan Appliqued Quilt Cover | | |
| | | | | | |
| Yesterday: Civil Rights in the South | | | | | |
| | | | | | Lake Superior Stick Bed & Quilt |
| | | | | | |
| | | Log Cabin, Pinneaple Variation | Broken Circle (New York Beauty) | | |
| | | | | | |
| | | | | | |
| | | | | | |
| | | | | | |
| | | | | | |
| | The All American Signature Quilt | | | | |
| | | | | | |
| | | | | | |
| | | | | | |
| Log Cabin, Courthouse Steps | | Log Cabin, Courthouse Steps | | | |
| | | | | | |