Quilt of the Month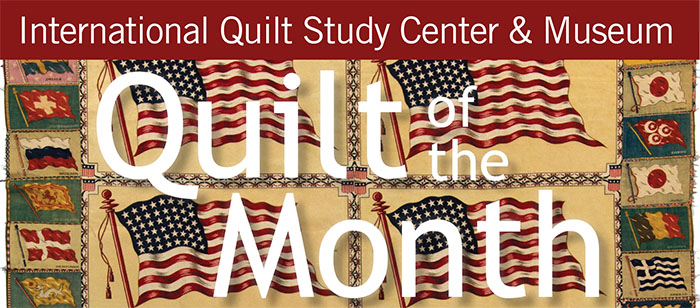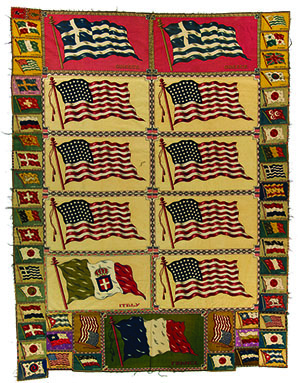 Tobacco Premium Quilt
c. 1915-1925
Possibly made in North Carolina
International Quilt Study Center 1997.007.0902
Ardis and Robert James Collection
Three siblings pose outdoors for their portrait taken by Pittsburgh, Pennsylvania, photographer, Joseph G. Morris. The baby is covered by a quilt made from especially large flannel tobacco premiums, many of which feature an American flag. Like the flags in the photo, the American flags on this quilt have 48 stars, indicating they were printed after 1912, when New Mexico and Arizona became the 47th and 48th states.
The American Tobacco Company's James B. Duke is credited with introducing collectible cards as premiums to promote sales of cigarettes, a gimmick adopted by competing firms as well. Beginning in the 1890s, printed fabric premiums began to replace the cards, which by this time were waning in popularity. Tobacco product manufacturers began to include cloth premiums with subject matter designed to appeal to women, who promptly incorporated them into quilts.
This quilt and photograph are featured in the exhibition, "Posing with Patchwork: Quilts in Photographs, 1855-1955," which was guest curated by Janet Finley.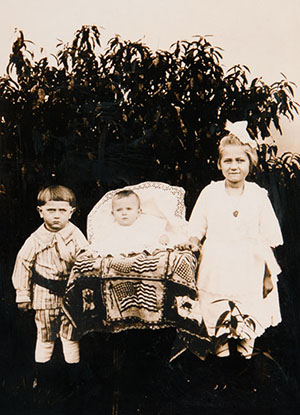 About the photograph:
Mounted photograph
c.1910-15
Photographer: Joseph G. Morris
Original size: 4" x 6.25" on a 7" x 11" mount
From the collection of Janet Finley
View more quilts from "Posing with Patchwork" in this video:
Archive