Quilt of the Month
---

October 2017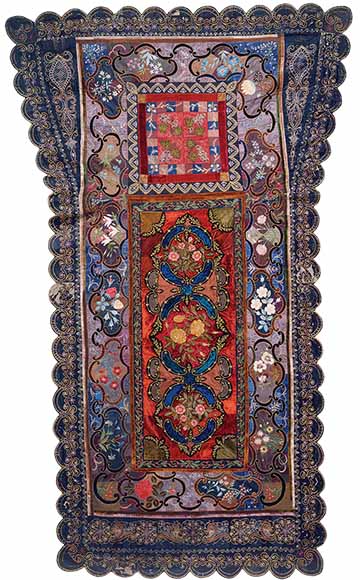 Crazy Quilt, Coffin Cover
Maker unknown
Circa 1880-1900
Probably made in Florida
Silk; hand-quilting, embroidery and applique
IQSCM 1997.007.0360
Ardis and Robert James Collection
Resembling a crazy quilt, this rare coffin cover is ornately embroidered with motifs of scrolls, florals, grapes and curving shapes. Like other crazy quilts made during the Victorian Era, it is made of velvets, silks and satin.
There is a long tradition of draping coffins in fabric. In Ancient Rome, a "pallium," or man's cloak, was spread over his coffin when it was carried from his home to the cemetery. By the Middle Ages, pallium had become a rectangular "pall" used to cover a coffin as it lay in a Christian church. 
In the United States, there is a regional tradition of handmade embroidered casket covers in Appalachia. In "Piece of My Soul," Cuesta Benberry notes that African American families have a tradition of creating quilts to cover coffins. These are then passed down through family members and used on numerous occasions.
For more information on this and other crazy quilts, view the online exhibition for A Fairyland of Fabrics: The Victorian Crazy Quilt, which appeared at Quilt House in 2009.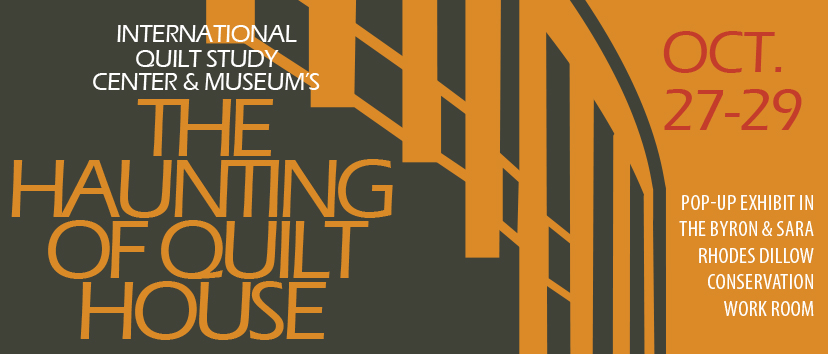 This quilt will be featured in The Haunting of Quilt House, a pop-up exhibit to celebrate Halloween, October 27-29 in the Byron and Sara Rhodes Dillow Work Room. The seven quilts featured in "The Haunting of Quilt House" cover a spectrum of quiltmaking styles—applique, piecing and embroidery—and span three centuries
---
Archive
| | | | | | |
| --- | --- | --- | --- | --- | --- |
| | | | | | |
| | | | | Seven Camels Heading West | |
| | | | | | |
| | | Scherenschnitte Appliqué Quilt | | | Madison Township Memorial of the World War |
| | | | | | |
| | | | Dawn (Left Illinois for California, April 15, 1859) | | |
| | | | | | Grandmother's Flower Garden |
| | | | | | |
| | | | Fallen Timbers: A Salute to the Heroes of 9-11 | | |
| Longpo Yi or "Dragon Wife's Robe" | | | | | |
| UNL Palladian Society Quilt | | | Indigo Resist Whole Cloth Quilt | Scrap Bag with St. Michael | |
| | | | Daybook: 8 September 2006 | Through the Trees: Solstice Moon | |
| | Maonan Appliqued Quilt Cover | | | | |
| | | | Yesterday: Civil Rights in the South | | |
| | | | | | |
| | | Lake Superior Stick Bed & Quilt | | | |
| | | | | | Log Cabin, Pinneaple Variation |
| Broken Circle (New York Beauty) | | | | | |
| | | | | | |
| | | | | | |
| | | | | | |
| | | | | | |
| | | | | The All American Signature Quilt | |
| | | | | | |
| | | | | | |
| | | | | | |
| | | | Log Cabin, Courthouse Steps | Log Cabin, Courthouse Steps | |
| | | | | | |
| | | | | | |