For Kids: Quilt Explorers
---

Welcome Quilt Explorers of all ages!
We are delighted you have decided to expand your discovery of quilts and quiltmaking traditions. There is so much we can learn from the quiltmakers of our past and present. Through the quilts featured in our galleries and in our collections, we can learn more about our fascinating world.
---
Quilt Explorers Den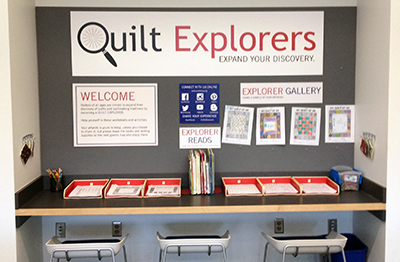 To help you on your quest for knowledge, we invite you to visit the Quilt Explorers Den in the Mary Ghormley Reading Room. Located on the third floor of Quilt House, you will find:
Samples of quilting and piecing that you can touch
Worksheets and activities you can complete in the den or at your home
The Explorer Gallery, which showcases the masterpieces of other Quilt Explorers
A library of Explorer Reads to enjoy during your visit
---

Activities & Worksheets
If you are unable to make a visit in person to the Quilt Explorers Den, or you would like extra copies, we invite you to download copies of the activities and worksheets below.
---
Related to Past Exhibitions
---
Seasonal
---
General