SAQA Showcase: Studio Art Quilt Associates Invitational
---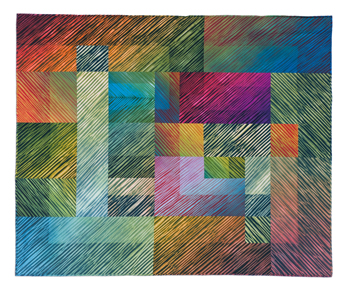 Introduction
August 3, 2012 - February 24, 2013

Curation of SAQA Showcase: Studio Art Quilt Associates Invitational

Carolyn Ducey, Ph.D., Curator of Collections
Judith Content, SAQA Representative

Exhibitions Work Team

Marin Hanson, Curator of Exhibitions
Carolyn Ducey, Ph.D., Curator of Collections
Janet Price, Collections Manager
Jonathan Gregory, Assistant Curator of Exhibitions
Jennifer Walker Graham, Exhibitions Curatorial Assistant
The artists featured in this exhibition are

members of Studio Art Quilt Associates (SAQA), an organization whose mission is to promote the art quilt through exhibitions, publications, and professional-development opportunities. The IQSCM is pleased to partner with SAQA in this collaborative exhibition project.
SAQA Showcase: The Studio Art Quilt Associates Invitational began with a large pool of SAQA members

who submitted representative examples of their art quilts for consideration. From among this group the international Quilt Study Center & Museum and SAQA chose six artists whose works represent some of the best and most innovative approaches to studio art quilts. These artists were invited to select from their existing work or create new work for inclusion in the exhibition.
The artists express themselves through a variety of materials and techniques.

Michael Cummings and Susan Shie incorporate text in their quilts, articulating their views on a range of historical and political topics; their text speaks to the viewer while also forming part of the quilts' designs. Jan Myers-Newbury uses color, created through hand-dyeing, to evoke luminosity and an illusion of three-dimensional space. Deidre Adams explores the inevitable effect of time and human use on structures. Wen Redmond also explores time's effects, using nature photographs in combination with painting to create ethereal landscapes. Gay Lasher uses photographs as the basis for her quilts, manipulating digital photography to portray vividly colored hard surfaces of urban life.
In all cases, the artists have used their individual approaches to show us what they see, think, or feel about the world around them.
Note: The views expressed in the artworks in this exhibition are those of the artists and do not necessarily reflect those of the University of Nebraska or the International Quilt Study Center & Museum.
Schedule
Public tours are FREE with Admission Tuesdays through Saturdays at 11:00 AM and 1:00 PM and on Sundays through the month of August at 2:00 PM.
Other programming associated with the exhibition includes:
Friday, August 3, 2012, 10 AM
Exhibition Opening
Friday, August 3, 2012, 5:30 PM
Nebraska Chamber Players Music Sampler, flute soloist
Rebecca L. Van de Bogart
First Friday at the International Quilt Study Center, FREE Admission.
Calendar Event Details
Friday, August 3, 2012, 4:30 PM
Midwest Fiber Arts Associates Community Quilt Display
Area fiber artists display their work for the IQSCM's First Friday event
Wednesday, October 31, 2012, 3 PM
Public Lecture
"Stitching as Knowing: Mapping Nebraska with Textiles and Thread," by Liz Ingraham, Associate Professor, Art and Art History, University of Nebraska-Lincoln
Calendar Event Details
Credits
This exhibition was made possible by the generous support of the Nebraska Arts Council and the Nebraska Cultural Endowment through a basic support grant. The Nebraska Arts Council, a State agency, has supported this arts event through its matching grants program funded by the Nebraska legislature and the National Endowment for the Arts, and the Nebraska Cultural Endowment??and the Friends of the IQSCM.