I map the state where I live and document an internal and external landscape. I work with cloth and with piecing and quilting because of their references to human scale, human touch, and human occupation. With image and stitch I communicate the beauty and diversity of Nebraska, revealed over time and across distance. I want to attend to what is unseen as well as to what is visible, and value what is lost as well as what persists.
-Elizabeth Ingraham
---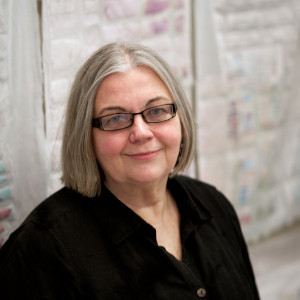 Elizabeth Ingraham is a sculptor whose work gives form and voice to lived experience as she explores terrains that are physical and cultural. She received the Thatcher Hoffman Smith Award for Creativity for her series of life-size sewn fabric "skins" sculptures, and these sculptures, together with her poetry, became the basis for SKINS, a multimedia theatrical performance directed by Kathryn Moller and performed at La MaMa Theatre in New York City.
The work shown here is the result of more than 9000 miles of travel across Nebraska for her project, Mapping Nebraska—a stitched, drawn and digitally-imaged cartography of the state (physical and psychological) where she resides. Mapping Nebraska received the Distinguished Artist Award in 2013 from the Nebraska Arts Council and selections from her project toured the state as part of the Sheldon Museum's Picturing Nebraska.
An Associate Professor in UNL's School of Art, Art History & Design and a Fellow of the Center for Great Plains Studies and the International Quilt Study Center & Museum, she teaches design and creative thinking and, as part of a team with faculty from Computer Science and Educational Psychology, has a National Science Foundation grant to integrate creative thinking into computer science and other courses. Her research into computational creativity is part of her on-going interest in combining the digital (pixels and code) with the digital (the work of the hand).
Artist's Acknowledgment
My thanks to the Nebraska Arts Council, the Hixson-Lied Foundation and the University of Nebraska-Lincoln Research Council and Humanities Enhancement Fund for supporting my work. I am also grateful for the assistance of Sylvia Cox, Lindsay Graef, Marisa McClintock and Abigail Wiebe, my UCARE (Undergraduate Creative Activities and Research Experience) students.