Elegant Geometry: American and British Mosaic Patchwork
Introduction
May 28, 2011 - January 8, 2012

Guest Curated by Bridget Long
Visitors will enjoy learning about an early quilt style, connecting it to familiar styles today such as the "Grandmother's Flower Garden" pattern. The exhibition will reveal many interconnections between American quiltmaking and its British roots.
Mosaic quilts are eye-dazzling textiles made from thousands of precisely-shaped fabrics

formed with the use of templates. The technique was used in the British Isles as early as the 1700s and also became popular in other parts of Europe, as well as in British colonies, including America. This exhibition will trace the development of the style and presents many stunning examples of an exacting and time-consuming art.
The eighteenth century was the period when British patchwork blossomed

as a domestic decorative needlecraft. Mosaic patchwork was made first with silks, then later with cotton and linens as the taste for printed cloths grew towards the end of the eighteenth century. Most surviving mosaic patchwork from this period was made by wrapping fabric pieces over paper pieces then whipstitching them together. The technique allowed the maker to use virtually any shape to create elaborate figurative imagery. Most makers, however, chose to make mosaic patchwork of tessellated (tiled or repeating) patterns, most often using hexagons, triangles, and diamonds.
The technique, often referred to as paper piecing, was transported to North America with British settlers

and through the continued cultural exchange between the United States and Britain. Using items in the IQSCM collection drawn from both sides of the Atlantic, the exhibition considers the use of the mosaic patchwork technique into the twentieth century and will include an 1844 signature quilt from a prominent Quaker family, the Scattergoods, as well as one of the earliest quilts in the IQSCM collection, a 1796 hexagon mosaic by Anna Ruggles of the UK.
Bridget Long, guest exhibition curator, is an authority on early British quilts and quiltmaking.

She has been an IQSC Associate Fellow since 2004. In 2009, she was awarded the International Quilt Study Center's Research Fellowship to study the IQSCM's early mosaic patchwork quilts and investigate relationships between American and British versions. In residence for two weeks, she carefully examined and documented mosaic patchwork quilts from both sides of the Atlantic. This exhibition emanates from her fellowship research. Her careful study has enriched our knowledge of the collections and has informed the first quilt exhibition in the United States to focus on the mosaic patchwork technique within a Transatlantic historical context. She is currently pursuing her PhD at the University of Hertforshire on the topic of Anonymous Needlework: British Patchwork 1680-1815.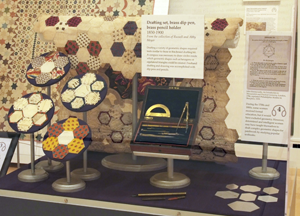 Schedule
Free audio tours of the exhibition will be available as will a full color catalog of the exhibition. Public tours are offered free with admission Tuesdays through Saturdays at 11:00 AM and on Saturdays at 1:00 PM. Other programming associated with the exhibition includes:
Sunday, June 26, 2:00 PM
Public Lecture: "Elegant Geometry: American & British Mosaic Patchwork," Bridget Long, Guest Curator
Tuesday, August 23, Noon
Tuesday Talk: "Chinese Mosaic Patchwork," Marin Hanson, Curator of Exhibitions
Sunday, September 11, 9:00-9:30 AM
Workshop: "Tessellations & Variations: Creating One and Two Patch Quilts," more details are available on our Calendar.
Saturday, October 1, 10:00 AM-12:00 PM or 2:00-4:00 PM
Workshop: "American Girls Discover Geometric Shapes in Quilts," more details are available on our Calendar.
Tuesday, October 25, Noon
Tuesday Talk: "The Art and Science of Patchwork Tessellations", Dr. Barbara Caron, IQSCM Assistant Director
Credits
This exhibition, gallery guide, & programming were made possible through funding from the Cooper Foundation and the Robert and Ardis James Foundation.