Wreath of Roses
---

Maker unknown
Circa 1930
Possibly made in Indiana
Ardis & Robert James Collection
IQSCM 2006.043.0042
---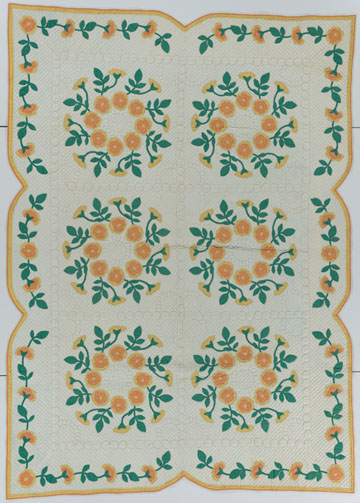 Jonathan Gregory, assistant curator of exhibitions ★
Marie Webster revolutionized quilt design in the early 20th century, producing Art Nouveau-inspired appliqué patterns that radically departed from the patchwork and Crazy quilt styles of the late 19th century. Her Practical Patchwork Company produced patterns, kits and partially completed quilts, which were popular throughout the 1920s and '30s quilt revival. 
---
Laura Chapman
I don't always like kit quilts, but when I do they feature absolutely stunning quilting and vibrant colors, like this one.
---
Carolyn Ducey
Marie Webster's patterns make me feel like all is right with the world. They are balanced, precise and beautifully colored. True artistry.
---
Mary Ourecky
I love the unique fancy edge on this beautifully appliquéd quilt. It just makes it more than special!
---
International Quilt Study Center & Museum
View "Modern Marvels: Quilts Made From Kits, 1915-1950" online.