Whole Cloth
---

Maker unknown
Circa 1850-1870
France
IQSCM 2014.065.0001
---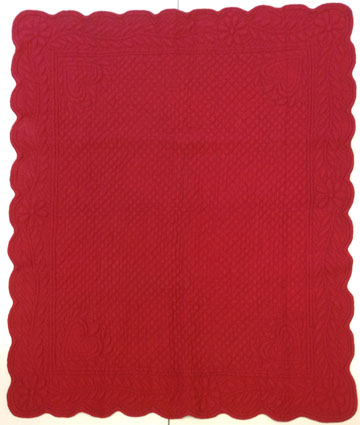 Carolyn Ducey, curator of collections ★ 
This beautiful cotton vanne, the French term for a small bedcover made to rest on a bed for decorative effect, was possibly made for a wedding—note the hearts in each corner. Produced primarily in the southern French region of Provence, these extraordinarily popular whole cloth quilts were also made from silks and printed cottons, or indiennes.
If you like French whole cloth quilts, be sure to check out Marseille: White Corded Quilting and The Whole Story for more.
---
Laura Chapman
I would put a ring on this quilt and marry it right now if I could. It's simply stunning
---
Mary Ourecky
This is just a majestic look that would make anybody who sleeps under it feel special.
---
Jonathan Gregory
GO BIG RED!
---