Wedding Quilt Cover
---

Maker unknown, probably Buyi
Circa 1930-1940
Libo County, Guizhou, China
IQSCM 2014.027.0012
---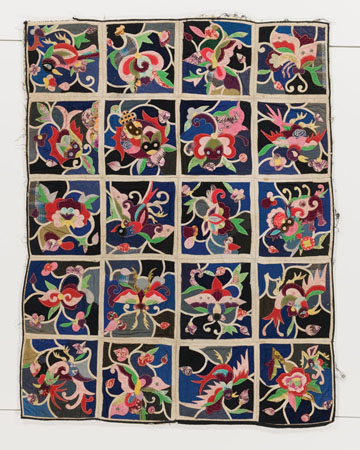 Marin Hanson, curator of exhibitions ★
South and Southwest Chinese ethnic minorities such as the Miao, Buyi, Yi, and Maonan make a variety of appliqué and patchwork quilt covers, which are used to wrap around plain quilts or loose batting. The results are exuberant and intricate bedcoverings, often full of culturally rich symbolism.
---
Brenda Archambault (Arizona)
There's a whimsical playfulness in the blocks which show a lot of movement and a drawing-in of wanting to study each block more closely. 
---
Beverley Clinehens (Mount Shasta, California)
I love the way the maker used traditional Chinese symbolism in all the intricate details of this exquisite and colorful quilt. I would love to see it "up close and personal" in an exhibition, if only to better understand my own Chinese heritage.
---
Anonymous
I love the colors! It reminded me of the elaborate designs found in the Forbidden Palace. Also, being appliquéd makes it so "today."
---
International Quilt Study Center & Museum
View more quilts from our growing collection of Chinese quilts in our online database.