Tush Kiiz
---

Maker unknown
Mid-20th Century
Kyrgyzstan, Alai Region
IQSCM 2011.040.0039
---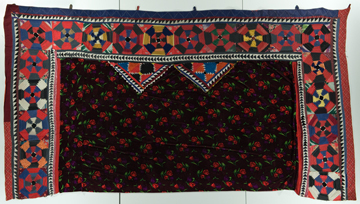 Christine Martens, associate fellow ★
Among the Kazakhs, Kyrgyz, Uzbeks, Tajiks and Turkmen, it is traditional to make garments and objects for everyday use of multi-colored patchwork. Patchwork is especially popular for such things as children's clothing, mattresses, pillows, and wall hangings, like this tush kiiz, which is usually the focal point in a yurt, the traditional tent dwelling of these nomadic peoples.
---
Carolyn Ducey
And we thought the Log Cabin pattern was unique to America—evidently not so much! I love the familiarity of the pattern combined with the unfamiliar format. Also, the tiny triangles are quirky and wonderful.
---
Jonathan Gregory
This hanging makes me sure that no matter where it was displayed, it made the space spectacular. 
---
Marin Hanson
I love the idea of granting your home an extra measure of significance and separateness by displaying traditional textiles. I now want a tush kiiz for my house—maybe between the living room and dining room?
---
Laura Chapman
The ultimate statement piece, this tush kiiz (which is really super fun to say) definitely captures your attention when it's on a wall.
---
International Quilt Study Center & Museum
We are expanding our Central Asian collection, and we look forward to sharing some of the stunning pieces in an upcoming exhibition in 2017.