String Quilt
---

Grace Averett
Circa 1940-1950
Possibly Hale County, Alabama
Robert & Helen Cargo Collection of African American Quilts
IQSCM 2000.004.0008
---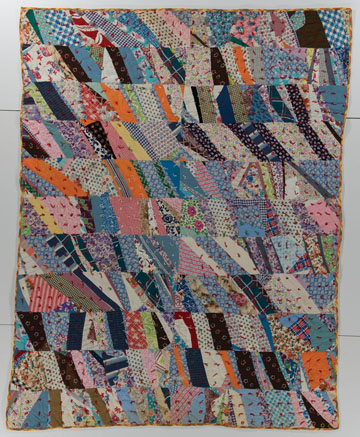 Roderick Kiracofe, quilt collector and author ★ 
What a winner! I am indeed biased as I truly love these everyday quilts, and even better yet, this one is a comforter also called a tied quilt. Everyday quilts that were made to be used could have been made very simply, humbly, and straight-forward—no need for ornamentation or elaborate design.
Movement is one of the first things that strike me. You can image the waves or ripples from a boat gliding across the water. Start in the bottom lower right corner and follow the fabrics as they snake up to the upper left corner.
Her construction is marvelous in the horizontal layering of printed cottons and feed sack "strings" that create her strips. My gaze had been held primarily by the horizontal lines and the tilting movement to the left. Only recently did I realize there is a vertical seam (or line) going down the center of the comforter. I love one printed fabric next to another and another and so on with just the right amount of a solid fabric. What about the solid orange? That's the "punch" or "pop" for me.
What do you think, did Mrs. Averett place those with intention or are they happy accident?
Another place she draws my eye is the green printed fabric with 2 red flowers at the center of the quilt: planned or chance? Her ample use of the red ties used to hold the three layers together are visually striking. Why so many and what happened to the blank areas in the center?
Read about the Cargo Collection of African American Quilts and "Race and Quiltmaking" at World Quilts: The American Story.
---
Anonymous
I love this because I can't, at a glance, figure out what the heck this quilter was doing. It's just full of surprises, and it seems to want me to really step back and give it lots of thought. (And I will.)
---
Katell (France)
So much movement in this quilt made of scraps of nothings! The red and regular knotting adds punctuation. Love it!
---
Anonymous
It has movement, but somehow calms me!
---
Anonymous
This quilt reminds me of a Cubist painting, maybe of a waterfall or a topographical map. Maybe the maker didn't intend for me to see something, but it's there and captivating. The ties bring me back to the surface, and to the hands of the maker.
---
Danka K. (Germany)
This quilt is really scrappy. And it make me happy—I can hear the sound of merrymaking!
---
Elaine K. Martin
What a fun, wiggly and wonky quilt! Patches strewn across the surface of every color and pattern. The pieces must have been fun to stitch together... no rhyme or reason... just stitch and add another.
---
Victoria Murphy
The bold cheddar orange caught my attention! This quilt has 'movement' to it. My eyes kept wandering around the piece.
---
Julie S. (Memphis, Tennessee)
Gloriously scrappy, not symmetrical, and SO full of joy and enthusiasm.
---
Anonymous
More IS better! A beautiful example of how a utilitarian piece can unwittingly become a stunning work of art. Your eyes dance all over the quilt and the red ties seem to vibrate. A surprisingly beautiful piece.