Star
---

Maker unknown, probably Lakota
Circa 1920
Standing Rock Reservation, South Dakota
IQSCM 2010.047.0001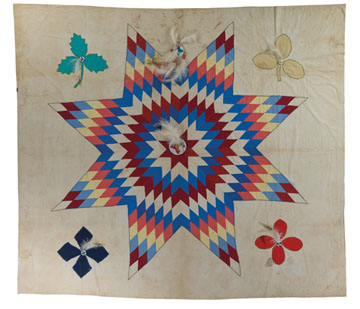 Kim Taylor, collections manager ★
The most interesting part of this pieced quilt top is the attachment of beaded disks with feathers—very similar to how buffalo robes were decorated in the 19th century. I think the stains across the top are blood smears. Maybe this blanket was presented to a warrior returning from battle.
Once they arrived in North America, white settlers began to move across the continent, encountering native peoples along the way. Through these contacts Native Americans began to use western textiles, such as woven blankets and quilts, rather than animal furs to keep warm. The huge mid- to late-19th century westward migrations of European Americans included Christian missionaries, many of whom taught native women to sew and do patchwork. In this way, Native Americans began to make their own quilts.
Learn more about quilts made by native peoples at World Quilts: The American Story
---
Leslie Levy
I love to stand before this quilt. For me, the star radiates and moves... It is quite alive and beautiful.
---
Carolyn Ducey
After trying to piece my own, I'm not sure I like Lone Stars at all! The pattern requires precise stitching—something I can't accomplish. This stirs memories of frustrated re-working. I respect quiltmakers who didn't have rotary cutters and paper piecing.
---
Anonymous
The boldly colored star has a movement created by the well-placed colors used to construct the star.  I love that this is a 3D quilt loaded with culture if it could talk. 
---
International Quilt Study Center & Museum
The star is an important symbol in traditional Lakota mythology and art. The story of the morning star describes how an old medicine man became the morning star after his death. The morning star was considered to have more power than the sun or moon because of the experience the medicine man gained from living on earth. Consequently, the morning star was a symbol for wisdom and understanding. Today, the eight-pointed star is a symbol for the morning star. The eight points represent the four stages of life—infancy, youth, maturity, and old age—plus the four cardinal directions—north, south, east and west.
Here is a sampling of three other Native American Star quilts in our collection.