Patchwork
---

Maker unknown
Circa 1980
Thailand
IQSCM 2008.012.0006
---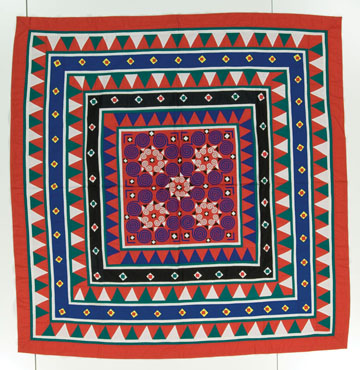 Marin Hanson, curator of exhibitions ★
We are just beginning to learn about Southeast Asian patchwork. This piece from Thailand has design elements that echo other textile traditions from nearby regions and peoples. The spirals in the center panel, for instance, relate to designs of the Southern Chinese Miao people, who are ethnically related to the Hmong of Southeast Asia.
---
Mary Ourecky
Each row of this brightly striped patchwork is like a surprise layer of a grandly layered cake.
---
Mishel Filisha
I like how the center part has movement and the static concentric border encloses the movement inside. It reminds me of a human body— with flowing blood and coiled organs inside held together by bone and skin's external structure.
---
Jonathan Gregory
My eye can't rest in one place—so much movement. And all those triangles make me think of inverted Prairie Points!
---
Gaby White 
I love the depth in the patterns and I also wonder what the symbolism is behind the spirals. Lots of spirals in Laotian textiles too.
---
Laura Chapman
The center medallion of this quilt is ah-mazing, but the intricate border stands out most. (It reminds me of the quilts featured in our exhibition, "The Engineer Who Could.")