Medallion
---

Maker unknown
Circa 1830
Probably made in Allendale region, England
IQSCM 2007.014.0001
---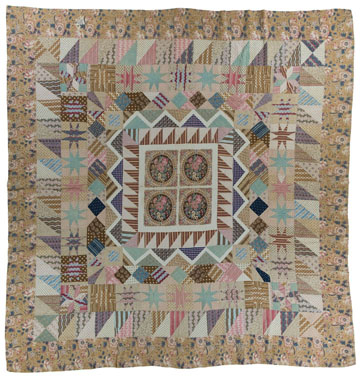 Fiona Diaper, manager, Quilt Museum & Gallery, UK ★
These visually pleasing Medallion quilts, which were particularly popular from 1800 to 1850, vary immensely in terms of design, construction and materials. Just as with different dialects and landscapes across the UK, quilts can sometimes show regional influences too. This lively version comes from the north of England. 
---
Christine Clode
My sort of colours, also am trying to make a medallion quilt myself which is taking a long time, so I admire the finished article.
---
Marilyn Miles (Gloucestershire, UK)
It is an intricate design, well executed and shows patchwork and quilting at its best. Although not a Northerner I have lived some of my life there and am very fond of the area, visiting frequently as my son lives in York!
---
Kerry (Australia)
I love the form of these medallion quilts, the totally eclectic gathering of fabrics and freeform use of color.
---
Jodi Godfrey
I love the movement and colour in both the design and the prints used. I want to look at it more because you don't see it all in the first viewing. I like that in a quilt. 
---
Joan Fisher
I love this quilt because  it comes from the north of England where I was born. I love the use of the different blocks to create the frames around the medallion. Clearly a lot of thought has gone into how it was put together and how the scraps of fabric could be used to best effect to make a cohesive whole.