Medallion
---

Maker unknown
Circa 1850-1870
Probably made in the United States
Byron & Sara Rhodes Dillow Collection
IQSCM 2008.040.0118
---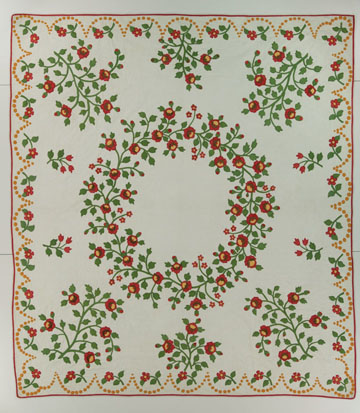 Carolyn Ducey, curator of collections ★
Red and Green Appliqué was the "go-to" quilt style of the mid-19th century. Likely influenced by Germanic folk arts and by the newly widespread availability of wash- and light-fast red and green fabrics, this type of quilt found favor in communities all over the United States.
---
Joan Laughlin
There's enough negative white space to show off the details. It has a nice flow to it. It's elegant.
International Quilt Study Center & Museum
Yes, red and green appliqué quilts from the mid-1800s often had ample open space for the maker to showcase her quilting skills.
---
Wanda Hein
The design is very natural and the appliqué work is intricate and delicate.
---
Anonymous
I love the freedom of the design and its abundance and that the sprays are not quite symmetrical. I also like the gold-dotted scallop as border as a subtle containment of the floribunda inside.
---
Anonymous
I think this one would look great on my bed!