Medallion
---

Maker unknown
Circa 1815
Possibly made in Baltimore, Maryland
Ardis & Robert James Collection
IQSCM 1997.007.0688
---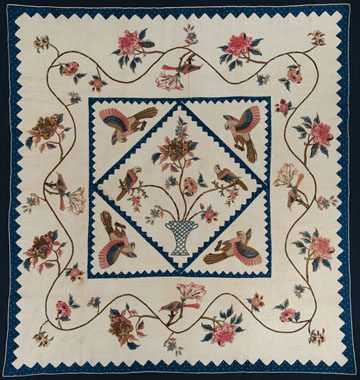 Carolyn Ducey, curator of collections ★
Chintz appliqué quilts, constructed of motifs cut from polished cotton fabrics, are some of the most beautifully crafted, vibrantly colored and largest quilts ever made. Initially created to imitate the fashionable painted and printed cottons of India, they were made primarily in the United States between 1775 and 1850. 
---
Jonathan Gregory
This may sound strange, but it looks like a giant postage stamp.
---
Mary Ourecky
I cannot imagine the hours of hand stitching spent appliquéing the beautiful images onto this quilt. And then to try to figure out the mathematical size to cut the zig-zag edge!
---
International Quilt Study Center & Museum
Discover more about Chintz appliqué quilts in the online exhibition for "Chintz Appliqué: From Imitation to Icon."