Witch Hazel-Jelena
---

Ruth B. McDowell
2005
Winchester, Massachusetts
IQSCM 2006.011.0001
---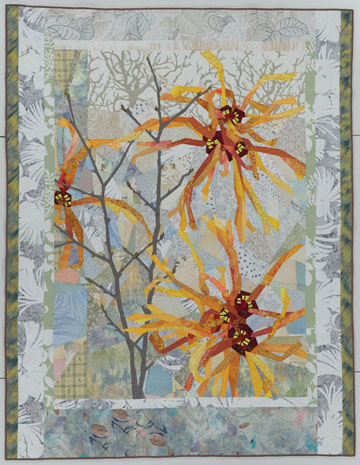 Carolyn Ducey, curator of collections ★
Ruth B. McDowell—known for her complex piecing methods—has been a prominent studio quiltmaker since the 1970s. She draws much of her inspiration from nature, saying, "In adapting nature to the quilting medium, I try to distill the essence of the subject, leaving out much more than I put in to uncover the subject's spirit."
---
UNL Student
I like the burst of orange on this quilt and the detail within that is what draws me to the quilt and its design.
---
UNL Student
I like florals and I think it is so amazing that someone was able to sew that in. It looks like a painting.
International Quilt Study Center & Museum
That's a good observation. In her artist statement, McDowell writes, "Many of my art quilts are constructed from full-size drawings, each line on the drawing becoming a seam line between two pieces of cloth. The drawing is gradually cut up, with each piece of paper being used as a template for a single piece of fabric. The pieces are then joined by machine to form a pieced top."
---
UNL Student
It's unlike anything I have ever seen before! It's detailed, beautiful and I'm intrigued by its name.
---
UNL Student
I enjoy the contrast of colors and the idea that I can interpret the image however I like.