Kimono
---

Maker unknown
Circa 1910-1930
Japan
IQSCM 1998.003.0002
---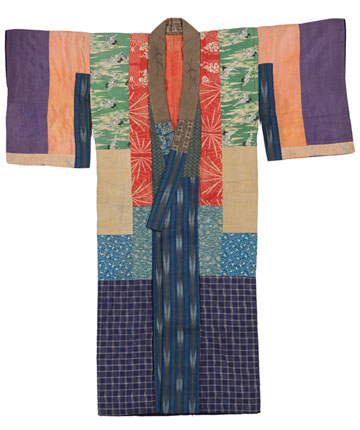 Marin Hanson, curator of exhibitions ★
Although we might imagine this Japanese patchwork garment being worn to impress others, it was actually meant as an under-kimono. Its elaborately dyed and stitched fabrics would never have been seen, other than perhaps peeking out at the collar or at the robe's overlapping opening.
---
Carolyn Ducey
This was one of the first patchwork garments I saw. It opened a new world of patchwork to me and made me realize quilting was bigger than I imagined.
---
Leslie Levy
Each individual fabric is interesting, but when sewn together in this kimono, the overall effect is striking. I love the symmetry. 
---
Laura Chapman
Not even the "Fashion Police" could find fault with the fabulous fabrics used in this piece. #want
Marin Hanson
Yes! Would wearing this kimono transport me to a hot spring somewhere in the Japanese mountains? Probably not, but I'd love to try! #alsowant
---
International Quilt Study Center & Museum
Other IQSCM patchwork garments include this Seminole Native American skirt, Turkmen child's tunic, and Chinese jacket.