Kantha
---

Maker unknown
Circa 1900-1925
Jessore, Bangladesh
IQSCM 2012.001.0004
---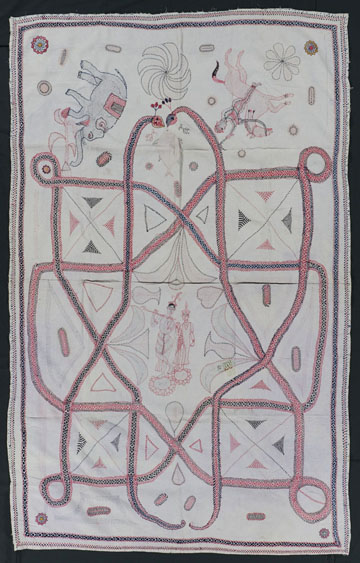 Marin Hanson, curator of exhibitions ★ 
Kantha often depict symbols important to Bengali spiritual and daily life. In this early 20th century example, the Hindu deities Krishna and Radha, who represent the masculine/feminine aspects of God, have pride of place in the center. Intricately twined around them is a pair of snakes, possibly representing kundalini, the life force that coils around the base of the human spine. Near the serpents' heads is a spinning chakra wheel, also representing vital spiritual forces. More prosaic, but equally powerful are an image of an elephant and a white man on horseback, representing the colonial British rulers of India (1858-1947).
If you were going to make a quilt illustrating your daily or spiritual life, what symbols would you choose?
Kantha come from the region once known as Bengal, which is now divided between the Indian state of West Bengal and the nation of Bangladesh. Made from multiple layers of recycled sari cloth, the quilts are held together with a running stitch that is both functional and decorative.
Beginning in 1998 with the gift of two Indian quilts from Mumbai collector Geeta Khandelwal, the IQSCM began building its South Asian quilt collection, with ralli and kantha constituting the most significant segments (nearly 200 pieces altogether). Other South Asian quilts in the collection include Godhari from Maharashtra, Dharki from Gujarat, and Sujani from Bihar.
Learn more at South Asian Seams: Quilts from India, Pakistan, and Bangladesh.
---
International Quilt Study Center & Museum
We want to know: What do you like about this kantha from Jessore, Bangladesh?
@nanabecca
The little directionals in the four corners.

Jonathan Gregory
When I doodle on paper, sometimes it looks like this (minus the elephant and deities—I don't draw animals and people).
---
Laura Chapman
There's something about this piece that's so intriguing. I'm a big fan of elephants on quilts. What do you like about this piece?
Marin Hanson
I love that it looks like a game board—Chutes and Ladders, Candyland, or Life—or a maze. I would have loved this as a kid.

Carolyn Ducey
The crazy snakes on this kantha make me curious and a little uneasy, because I don't like snakes. Were they meant to portray something good or evil? Do they have some sort of connection to Krishna and Radha? I want to know more!
---
International Quilt Study Center & Museum
Kantha makers illustrate scenes from daily Bengali life with their stitches, recording ancient symbols, traditions and folkways. Frequently depicted are creatures of land and sea (tigers, elephants, peacocks, fish, and squid), religious iconography (Hindu gods, temple chariots, chakra symbols), and sometimes whimsical images such as umbrellas, eyeglasses, and game boards.