Hexagon Mosaic
---

Maker unknown
Circa 1890
England
IQSCM 2014.050.0001
---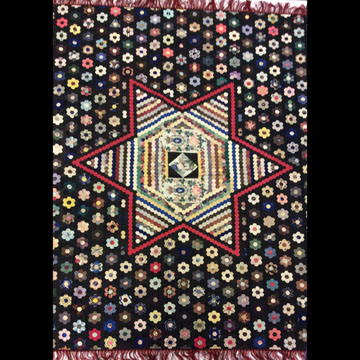 Bridget Long, associate fellow ★
This luxurious silk quilt is typical of "fancy work" that was popular in the third quarter of the nineteenth century. The maker "fussy cut" patterned silks to enhance the elegance of her design. Fancy work was not practical for bedroom use, but was often displayed in more public rooms such as the parlor, a room in Victorian homes set aside for receiving guests. 
---
Ann Ross
Hexagon hand piecing was the first theme I tried in quilting. I can vouch for the hours and eye strain involved. This is a beautiful quilt and the star design centre is quite unusual.
---
Patty Goddard
This is a beautiful and unique way to arrange hexagons.
---
Mary Jenkins
Wonderful work and unusual shape and with the printed medallions on their side. Surely it was made to cover a table and isn't actually a quilt?
---
International Quilt Study Center & Museum
We want to know: What do you think about this circa 1890 British Hexagon Mosaic quilt? 
Darlene Krystal
WOW...!!!

Suzanne Smith Hardebeck
Stars twinkle