Hawaiian Flag
---

Maker unknown
Circa 1890-1910
Hawaii
IQSCM 2005.050.0001
---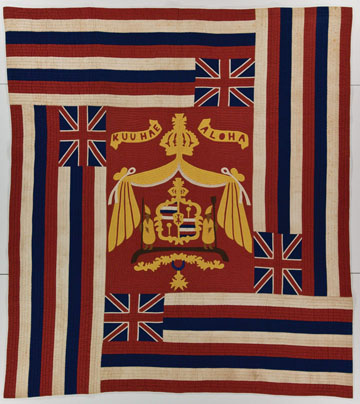 Marin Hanson, curator of exhibitions ★
This Hawaiian flag quilt features the words "Ku'u Hae Aloha," or "My Beloved Flag," appliquéd above the royal coat of arms. The center field is surrounded by four Hawaiian flags. Many quilts like this one were made both before and after Hawaii's last queen was forced to abdicate her throne in 1893, and represent Hawaiians' native homeland pride.
Native Hawaiian Islanders first encountered white sailors in the late 18th century. Soon thereafter, Christian missionaries from New England and the Mid-Atlantic began arriving and setting up schools throughout the islands where sewing and other skills were taught to the natives. One of the typical Hawaiian quilt formats is the flag quilt, which celebrated Hawaii's independence (prior to Queen Lili'uokalani's 1893 forced abdication) and which continued to be made well after the United States annexed the islands in 1898.
Learn more about quilts made by native peoples at World Quilts: The American Story
---
Dean Young
The flag quilt is quite regal and exudes patriotism and honor to Hawaii using the deep red, navy and gold fabric. Very striking!
---
Carolyn Ducey
I love the cone-shaped helmets on the spear-holding figures (royal guardians) in the center of the quilt. They aren't on any of our other Hawaiian quilts, so they were really special. 
---
Kim Taylor
The flags tipped every which way and the theatrical parting of the curtains to display the royal crest create an arresting design! 
---
International Quilt Study Center & Museum
Another typical Hawaiian quilt format is a single, large appliqued floral design on a solid ground, often depicting native plants: