Eight Pointed Star
---

Maker Unknown
Circa 1920-1940
Possibly made in Wisconsin
Sara Miller Collection of Midwestern Amish Crib Quilts
IQSCM 2000.007.0067
---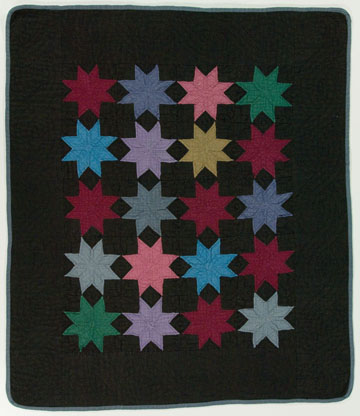 Janneken Smucker, associate fellow ★
The use of incongruous pieces of fabric, seemingly random arrangements of color, and a sense of playfulness characterize Midwestern Amish crib quilts, rather than the formal sense of order usually found in full-size Amish quilts. I love that this quilt feels playful and random, but I'm guessing the quiltmaker knew exactly what she was doing. 
Midwestern Amish communities have often been, by necessity, less isolated from their non-Amish neighbors than in areas with large, concentrated Amish populations such as eastern Pennsylvania. As a result, Midwestern Amish quilts often look more similiar to mainstream, "English" (i.e. non-Amish) quilts than to "classic" Lancaster Amish quilts. Block-style quilts (as opposed to large-scale Bars or Center Diamond patterns) and lighter, less saturated colors are characteristic of Amish quilts from places like Indiana, Iowa, and Illinois.
IQSCM Midwestern Amish quilts, numbering over 200, come from all over the region but one distinct group is the Sara Miller Collection of Amish Crib Quilts. Collected by a former Amish woman from Kalona, Iowa, this collection of 90 pieces represents the care that Amish women took in making quilts to comfort and cover their small children.
Read more about the Sara Miller Collection of Amish Crib Quilts.
---
Laura Eggeman
I voted for this quilt because it looks very Amish but the stars and colors somehow make it a tiny less plain by allowing some love for a baby to sneak in.
---
Ronel
The bright stars are so welcoming to a child. I am sure the kids will pick stars throughout life, with that inspirational crib quilt.
---
Anonymous
There is something about the colors of the starbursts on the black background that gives off a sense of warmth, home and family. It looks like the sort of quilt I would want to grab and curl up with in front of fireplace on a cold winter night, cup of hot chocolate in hand and a classic film on the television.
---
International Quilt Study Center & Museum
Here's another fun Midwestern Amish crib quilt: