Dawn (Left Illinois for California, April 15)
---

Anna Von Mertens
2007
California
IQSCM 2010.002.0001
---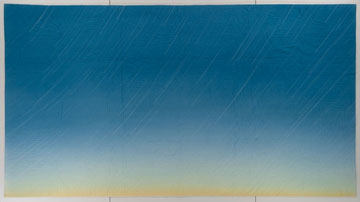 Michael James, artist and fellow ★
Quilting, the stitching that defines patterns complementary to patchwork, has rarely seemed so significant and meaningful to me as in Anna von Mertens' Dawn. The patterns delineated here in stitching transcend their function. They capture historical phenomena, the pathways of stars that a traveler across these wide Plains would have observed between dusk and dawn on the day in question. While the land these invading travelers were crossing seemed to them vast and often featureless, the skies were vaster, and in some regard more dynamic. So as the earth revolved these stars served as witnesses to the history being made with every pioneer settler's footsteps and every turn of their wagons' wheels. If they had no certainty about what lay ahead of them, they could be assured that the inexorable forces of the universe would continue to mark time and place far beyond the limited scope of their mortal lives.
---
Leslie Levy
This is one of those quilts you would never tire of and would love forever. It initially appears very simple, but is really quite complex and beautiful.
---
YN Leung
Love this more with every viewing. I would give it a whole wall in my home if it were mine... Maybe across from my bed. This is a true artist at work.
---
Laura Chapman
I could stare at this quilt forever. As a Nebraska native it reminds me of what you see on the long drive across the state on I-80. Lots of nothing, which is quite beautiful. 
---
Kim Taylor
This quilt takes my breath away with the sun barely peeking up over the horizon! I love that Von Mertens quilted the stars as they would appear in a time lapse photograph.