Dahlia
---

Maker unknown
Circa 1950
Possibly made in Ohio
IQSCM 2012.015.0103
---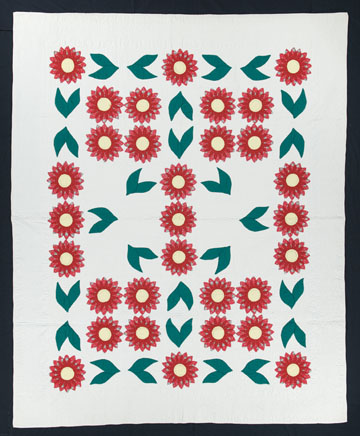 Linda Pumphrey, acquisitions coordinator ★
In the late 1920s, the Stearns & Foster Company of Cincinnati, Ohio, began to print quilt patterns on the wrapping paper for their Mountain Mist cotton batting. Over the next 40+ years, Mountain Mist wrappers introduced around 130 patterns, contributing to the company's popularity and helping to fuel the quilt revival of the early 20th century. 
---
Anonymous
This is a fascinating layout. I've never seen a quilt with the motifs grouped the way they are—especially with all of that open space in the middle and the leaf pairs floating in the center. Very interesting.
---
Carolyn Ducey
This is the kind of pattern I avoid as a quiltmaker, because of the technical difficulty in putting all of those rounded pieces together in an even way. I simply don't have the ability. Kudos to the maker of this piece.
---
Brea Brown
This quilt screams "summer" to me, not only because of the brightly colored flowers, but because the patterns created by the shapes on the white background are reminiscent of flowers in a bright, sunny field.
---
International Quilt Study Center & Museum
View more of the 150-piece Mountain Mist Collection in our online database. We will feature the collection in its own exhibition in 2016.