Crazy Quilt
---

Probably made by Susan and M. Eva Nicely
Circa 1890-1910
Possibly made in Indiana
Jonathan Holstein Collection
IQSCM 2003.003.0194
---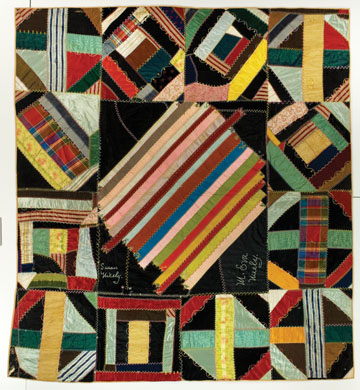 Jonathan Holstein, associate fellow ★
This is one of the only crazy quilts I truly loved.  Made of dress silks in the late 19th century, it broke the mold, using a modified crazy quilt visual idea but arranging its borders on the model of a block-style quilt enclosing those unique slashes of colored strips in the middle.  The upshot is an arresting form and color composition that looks very modern.
Whoever made this quilt—I like to think of them as the Nicely sisters—adopted several different modes and styles common to quiltmaking of the time, reconfigured them, added some unique touches and so created an unusually powerful and aggressive finished textile. Nice work, Nicelys.
---
Anna Nordström (Stockholm, Sweden)
I'm usually not a fan of crazy quilts but this one is really amazing! I love the center medallion and the colors! The scale and composition of the whole piece makes it the best crazy quilt I ever saw.
---
Ardeana Hamlin
When I look at this quilt, I feel as if I have entered into the thinking process of its maker—I can almost hear her wondering how this color ribbon will play against another color. I also like how the quilt has an air of folk art about it, while at the same time appearing to belong to the ranks of the Victorian crazy quilt genre.
---
Anonymous
The irregular piecing and chaotic composition appeal to both my fondness for crazy quilts and my thrifty nature. It is exciting. Compelling. It urges me to action.
---
International Quilt Study Center & Museum
View more crazy quilts in the online exhibition, "A Fairyland of Fabrics."