Checkerboard
---

Maker unknown
Circa 1800-1820
Made in United States
Ardis & Robert James Collection
IQSCM 1997.007.0376
---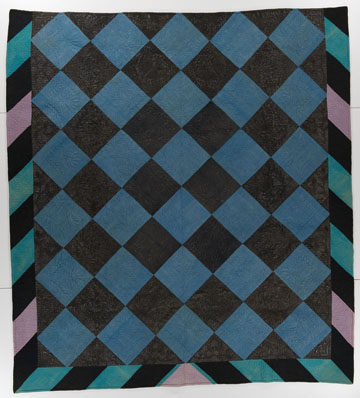 Lynne Z. Bassett, associate fellow ★
Pieced wool quilts such as this one can be seen as transitions between the wool and silk whole-cloth tradition of the 18th century and the pieced cotton calico quilts that came to the fore with the Industrial Revolution in the 19th century. The five different fabrics in this early quilt were reused from previous forms, as revealed by piecing within the blocks.
Examples of late eighteenth- and early-nineteenth-century pieced wool quilts that have been pictured in publications or are known in museum collections are generally attributed to New England or New York, suggesting that this style of quilting is a regional tradition.
Learn about textiles and the Industrial Revolution at World Quilts: The American Story.
---
the_orriginal
I *love* those borders! Having those angles is somewhat unexpected, and the colors make it more interesting. The "simplicity" of the whole quilt speaks to me, too.
---
Jonathan Gregory
This quilt is so thick and dense. I wonder if the maker used pliers to pull the needle when quilting it.
---
Mishel Filisha
It's interesting that this quilt was made in the early 1800s because it looks like a graphic design from the 1980s. Twenty-something etsy 80s throwback hipster crafters should see this back-to-the-future pattern and colors.
---
Mary Ourecky
The blocks set on point look so strong and stable, the angled border softens the look and puts some fun movement in the overall look of the quilt. 
---
Laura Chapman
It reminds me of the sectional my aunt and uncle had in their living room while I was growing up.
---
International Quilt Study Center & Museum
Notice the way the light reflects off of the glazed black fabric. Also note the seam line in the third blue fabric from the left: