Center Diamond
---

Melinda King
Circa 1910-1930
Lancaster County, Pennsylvania
Ardis & Robert James Collection
IQSCM 1997.007.0063
---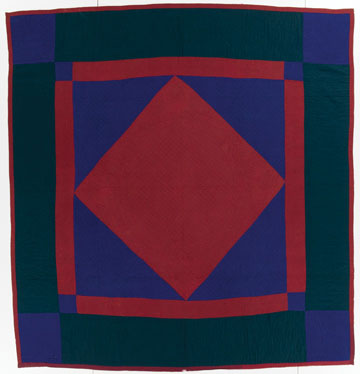 Carolyn Ducey, curator of collections ★
During the classic period of the late 19th century to World War II, Lancaster County, Pennsylvania Amish quiltmakers often juxtaposed large flat planes of saturated colors to create simple but striking designs. They also nearly always used fine dress-weight wools like the ones in this quilt. Amish women are still prolific quiltmakers today though they have expanded their pattern repertoire considerably. Lancaster County Amish quilts were discovered by outsiders in the 1970s and became highly collectible in the 1980s and '90s.
The IQSCM is home to around 50 Lancaster Amish quilts, most of which are part of the Jonathan Holstein Collection. Mr. Holstein and his wife, Gail Van der Hoof, were among the first collectors to recognize and talk about the aesthetic parallels between Amish quilts and mid-twentieth century modernist art, which is partly why they became so highly sought after. Removed from their status as some of the most collectible of American quilts, they represent the values and skills of a unique subculture that considers itself "in the world, but not of the world."
Learn about Amish Mutual Aid and its relationship to quiltmaking at World Quilts: The American Story.
---
Mary Ourecky
The thin red binding keeps my eyes focused on the bold red diamond in the center. The large fields of solid colors make you think about the quilted stitches that are so beautifully sewn into this quilt.
---
Joy Shalla Glenn
Simple yet bold!
---
Leslie Levy
I love it because it is a quintessential Amish quilt—I am drawn to the dark colors and simple design.
---
International Quilt Study Center & Museum
Visit our online database to see more than 350 Amish quilts.