Reflections of the Exotic East | Japan
---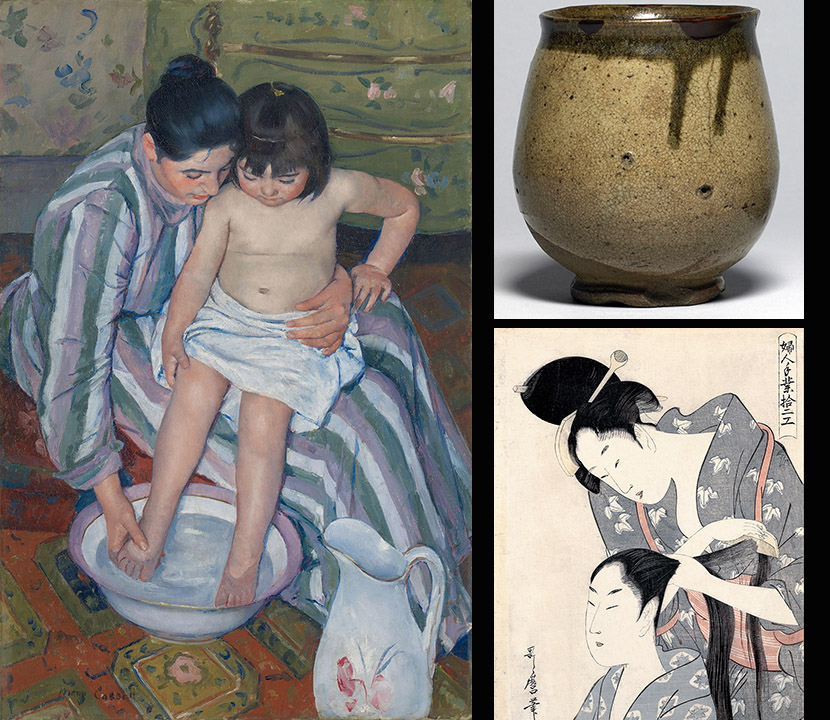 In the final decades of the nineteenth century, Japanese art and culture became a major preoccupation for the West. Japan, which had been off-limits to most Western merchants for centuries, opened up in 1853 when the United States arranged a trade agreement with the Emperor. Japanese arts and crafts began to enter the European and American markets in the 1860s, and artists such as Edgar Degas and Mary Cassatt (left) took inspiration from Japan, particularly its woodblock prints (bottom right).
In 1876, nearly 9.5 million visitors viewed the Japanese pavilion at the Philadelphia Centennial Exposition. The artistic and cultural objects displayed there captivated the American public's imagination. Soon after, Japanese-inspired designs became widespread in American decorative arts. Indeed, some of the objects on view at the Centennial Exposition—perhaps including ceramics with a "crazed," or cracked, glazing (upper right)—are thought to have influenced the development of the Crazy quilt, one of the most popular quilt styles of the late 1800s. (Image credits, clockwise from left: Art Institute of Chicago, Art Gallery of South Australia, Walters Art Gallery)
Click on the images below to see a larger view of and more information on the quilts and objects included in this exhibition.