Meet the Guest Curator
---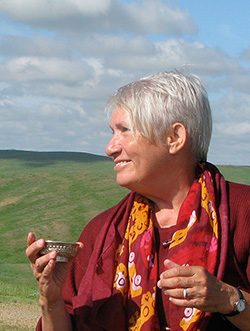 An artist and teacher for most of her professional career, Christine Martens has worked since 2002 as an independent researcher documenting and writing about textile traditions of Central Asia in relationship to women's rituals and ceremonies. In 2007-2008, she was a Fulbright scholar in Turkmenistan, Kyrgyzstan and Kazakhstan. In 2009, she received a grant from the Asian Cultural Council to document felt making and accompanying traditions in Mongolia for the Cooper-Hewitt National Design Museum. In 2013, she received an International Research & Exchanges Board (IREX) award to document textiles and religious practice in Turkmenistan, and in 2014, she traveled to Xinjiang, China as an Asian Cultural Council fellow with a focus on textiles and traditions.
Since 2009, Ms. Martens has traveled to Central Asia on numerous IQSCM-sponsored research and acquisition trips, helping the museum build a world-class collection and contributing immeasurably to its understanding of quilts and patchwork as talismanic objects in Central Asian society.
Ms. Martens received her MFA from the Tyler School of Art at Temple University and was on the Visual Arts Faculty at the Spence School in New York for over 25 years. Prior to that, she taught at the New School for Social Research and Parsons School of Design.