Jean Ray Laury: Getting It All Together
---
Writer
"Putting thoughts and ideas into words give them importance and validity."
— Jean Ray Laury, "Keep Writing," Quilter's Newsletter Magazine (October 1983)

Jean Ray Laury started writing a diary in elementary school and, in one form or another, continued writing her entire life. She kept quiltmaking journals and daily diaries, wrote dozens of poems and short stories and especially enjoyed corresponding with other quiltmakers. Her first two books—Appliqué Stitchery (1966) and Quilts and Coverlets: A Contemporary Approach (1970)—were among the rare how-to books available in the quilt revival's early years. During the 1960s and 1970s Laury contributed regularly to several national women's magazines, such as Women's Day and Family Circle. She went on to pen a regular column in Quilter's Newsletter Magazine during the 1980s and 1990s. Her musings about the art of quiltmaking remind us of how much the field has changed, while still offering advice still relevant to today's readers.
Laury's writing style is conversational and usually tinged with humor. Like her teaching methods, her books and articles describe more than techniques. She intertwines "how-to" instruction with philosophy, encouraging her readers to be original, value their work, explore and take creative risks. Her approach inspired many readers, including young artists who embraced the quilt as their primary means of expression as well as others who wanted to incorporate creativity into their everyday lives.
Laury's twenty-two books and numerous magazine articles make her thoughts and ideas about life, art, women and quiltmaking "important and valid." In addition to her quilts, they provide lasting evidence of her legacy.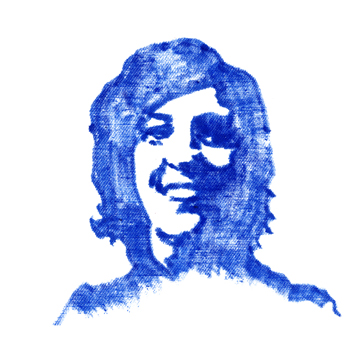 Jean Ray Laury, self-portrait
Selected Books by Jean Ray Laury
Doll Making: A Creative Approach (1970)
Quilts and Coverlets: A Contemporary Approach (1970)
Handmade Rugs from Practically Anything (1971) with Joyce Aiken
Creating Body Coverings (1973) with Joyce Aiken
Wood Appliqué (1973)
New Uses for Old Laces (1974)
A Treasury of Needlecraft for the New Baby (1976)
The Creative Woman's Getting it All Together At Home (1977, reprinted 1985)
The Total Tote Bag Book (1978) with Joyce Aiken
The Pantyhose Craft Book (1978) with Joyce Aiken
Quilted Clothing (1982)
The Adventures of Sunbonnet Sue: Sunbonnet Sue Goes to the Quilt Show (1985)
Sunbonnet Sue Makes her First Quilt (1985)
Sunbonnet Sue Gets it All Together at Home (1987)
No Dragons on My Quilt (1990)
Ho for California (1990) California Heritage Quilt documentation project
Imagery on Fabric (1992, reprinted 1997)
Incredible Quilts for Kids of all Ages (1993)
14,287 Pieces of Fabric (1997)
The Photo Transfer Handbook (1999)
Fabric Stamping Handbook (2002)