Care at the Museum
---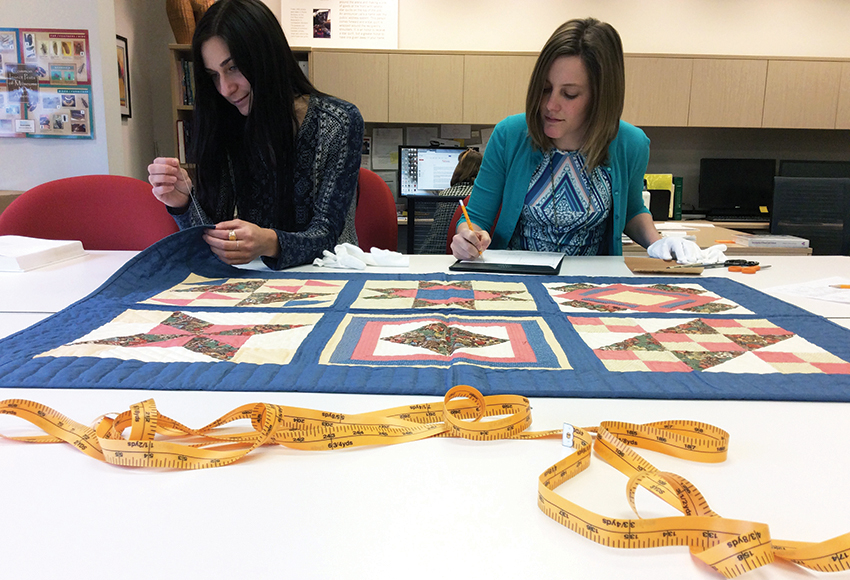 This museum is accredited by the American Alliance of Museums. We follow their recommendations for collection care.
You can follow many of these guidelines at home, for your antique treasures and for your stash of fabrics and new projects. Quilts can last for generations if they are cared for properly.
Our collection of quilts and textiles are cared for by a skilled team of staff members and volunteers in our Byron and Sara Rhodes Dillow Conservation Work Room.
View To Protect & Preserve for more information on at-home textile care.
---
What Happens in the Dillow Conservation Workroom?
We accession new quilts and related textiles in the collection.
We assign each new quilt and related textile a unique number. Volunteers attach a cloth label with the number to the bottom right corner on the back of each quilt. The labels are 100 percent unbleached cotton and hand-sewn with large stitches.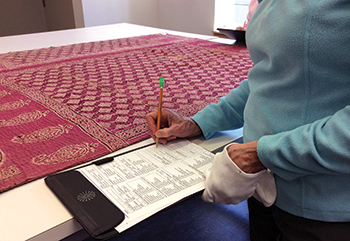 We perform object surveys on all new items. In an object survey, we note the quilt's length and width, and whether it was made by hand, by machine or both. We note how the binding was applied and the number of quilting stitches per inch. We determine the fiber in the quilt and what fabrics were used. We also make notes of any inscriptions, which are later researched by our genealogical task force.
Information about each quilt goes into our database, along with any history or genealogical information we have on the quilt.
Volunteers vacuum all new quilts, and any quilts that have been exhibited, using a museum quality vacuum before being stored. To vacuum a quilt, we place a soft, flexible screen over it. This prevents the vacuum's suction from pulling on the quilt and damaging it. We slowly move the vacuum over both the front and back of the quilt.
We store quilts in our state-of-the-art, climate-controlled facility. This includes a series of movable shelves, rolls and flat units. Our collection and exhibition spaces are kept at a constant 68 degrees Fahrenheit and 50 percent humidity.
Our team takes pest control seriously. Under a microscope each month, we identify any pests caught in our bug traps. We look carefully for any pests that could harm textiles, like carpet beetles or moths.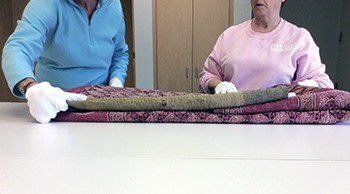 We re-fold the entire collection every two years
To prevent creases and fold lines from permanently damaging the quilts, we re-fold them every two years. We consciously fold along different lines each time, layering tissue paper on the top of the quilt and supporting the last folds with rolls of tissue paper. Most quilts are stored in archival boxes, but some are stored flat in drawers or rolled around acid-free tubes. Staff and volunteers wear white cotton gloves to prevent body oils from transferring to the quilts.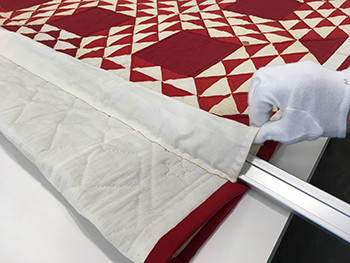 We prepare quilts for exhibition.
For their own protection, quilts are displayed for a maximum of one year out of every 10 years. This minimizes the amount of light exposure and reduces the wear and tear from hanging on display.
Volunteers attach 100 percent cotton sleeves to the back of the quilts that will be displayed in exhibitions. The sleeves are sewn by hand, with large stitches. The sleeves distribute the weight evenly across the width of the quilt, reducing stress to the fibers.
Most quilts are hung using a cord suspension system. We slide an adjustable aluminum slat through the quilt's sleeve. The slats are attached to nylon cords, which are suspended from a hanging rail on the walls. Quilts are hung so the center of the quilt falls roughly at eye level, giving you an optimal viewing opportunity.
---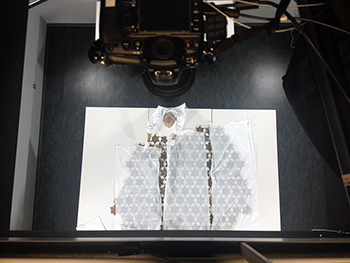 We take very special care of our quilts. Did you know?
Isolation
Whether quilts are new or returning from display outside the museum, we isolate them for two weeks, to be certain that no pests are present on the quilts. If we have any concerns, we might decide to freeze the quilts, which kills any bugs or larvae that could infect the rest of the collection. Our freezer is at a temperature 40 degrees below zero!
Photography
We have our own photo studio on the first floor with a camera mounted on an arm on the second floor. This enables us to photograph even the largest quilts in our collection – sometimes as big as ten feet square.
Traveling Exhibitions
Quilts from our collection have traveled around the world.  We have had exhibitions in China, India, Japan, South Korea, France  and the United Kingdom.
View To Protect & Preserve for more information on at-home textile care.