International Advisory Board
---
Geeta Khandelwal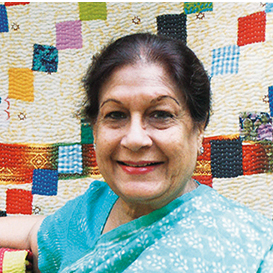 Geeta Khandelwal's love for fabrics started at an early age. Even as a teenager, she would sew her own clothes. This is when she learned to appreciate textures of various fabrics and to discern the colors and weight of the cloth. This led to a lifelong journey exploring and interacting with the rich world of Indian textiles. Khandelwal started quilting in the 1970s and has visited the interiors of Maharashtra to put together the rural quilts collection.
Geeta Khandelwal's book, Godharis of Maharashtra, Western India talks about godhari quilts made by village women in the Western state, each bedspread being more colourful and vibrant than the last.
Khandelwal is a native, and current, resident of Mumbai, India.